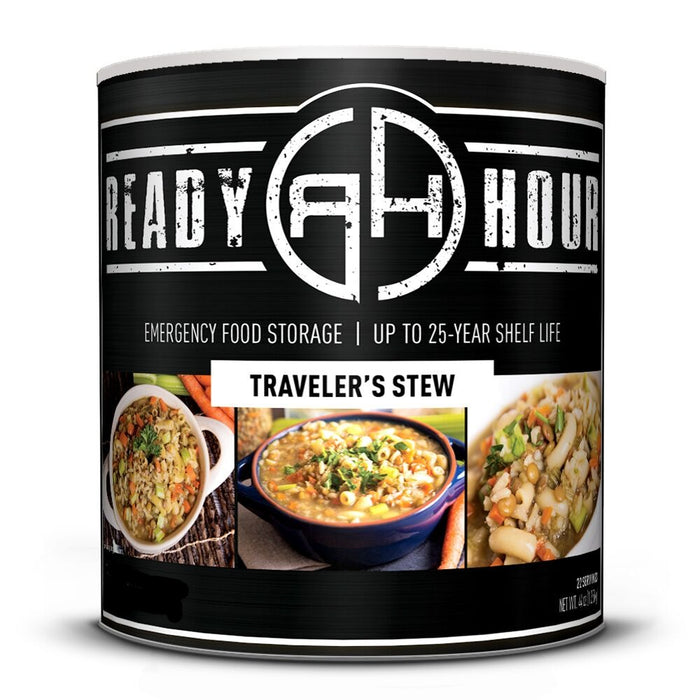 Ready Hour Traveler's Stew (21 servings)
THE CHOICE OF TRAVELER'S WORLDWIDE
Whether you are traveling on foot, by bicycle or by car, pack some Traveler's Stew. It's a hearty fare for an active lifestyle. Our Traveler's Stew combines your favorite ingredients - pasta, lentils, carrots, celery and onion - in a rich chicken broth.
A proprietary blend of savory herbs and spices brings to mind those slow-cooked meals from childhood that smelled as good as they tasted. Ready Hour Traveler's Stew is a wonderful main dish to include in your daily meal rotation and a must for your survival food supply.  It provides the comforting goodness you need to stay strong in an emergency. This item comes in a bulk #10 can size, about five times the size of an average soup can at the grocery store.
Ready Hour Traveler's Stew lasts up to 25 years unopened, and one year once it is open. Ready Hour Products require no refrigeration. This is vital when the grid is down. Our #10 cans are made of steel, waterproof and rodent proof, and stores easily on a shelf or in a closet. Store it in a cool, dry location where temperatures stay between 55 and 75 degrees for optimal longevity.
To view nutritional panel, ingredients and directions click here 

25-year shelf life unopened.
4,620 total calories.

Product weight is 3.4 pounds.
Total water needed to cook entire #10 can is 1.4 gallons.