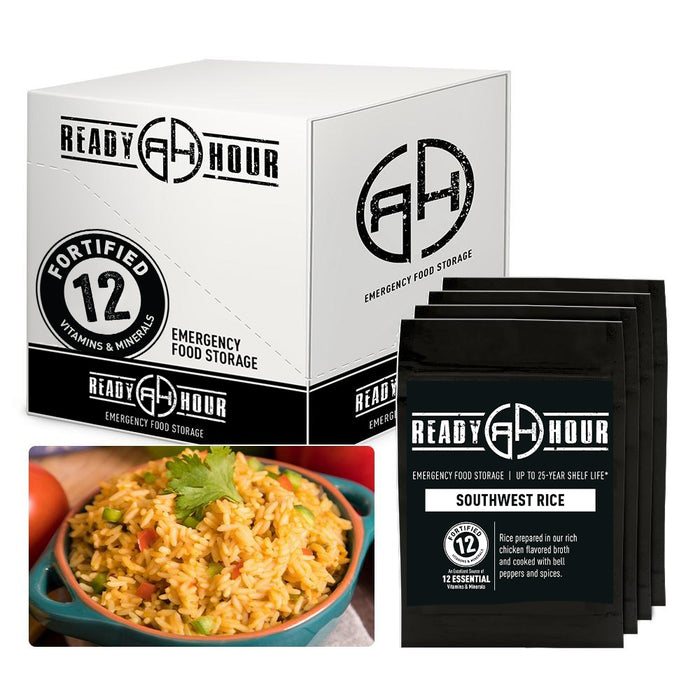 Ready Hour Southwest Savory Rice Case Pack (32 servings, 4 pk.)
AS GOOD AS YOU WOULD GET IN A RESTAURANT
Whether you are in a crisis situation and there is no access to grocery stores, or you just want to have a cost-effective and tasty side item in your pantry, you can now have it with our Southwest Savory Rice.
Ready Hour Southwest Savory Rice is the perfect combination of spices and rice. Use it as your main dish or a side dish. Plus, it is an excellent source of 12 essential vitamins and minerals.
It lasts up to 25 years unopened, and one year once you open the pouch. Store it in a cool, dry location where temperatures stay between 55°F and 75°F for optimal longevity. 
So easy to make, just add water and stir. Wait a few minutes and you have Southwest Rice ready to serve.
Advantages:
Ideal for off-grid use

Easy to prepare*
Up to 25-year shelf life unopened

Up to 1-year shelf life after opening

Includes 4 pouches

8 servings per pouch

Excellent source of 12 essential vitamins and minerals

Requires no refrigeration

Weighs 4.40 pounds
Click here to view nutritional information.
*Total water needed to cook entire case pack is 1.3 gallons