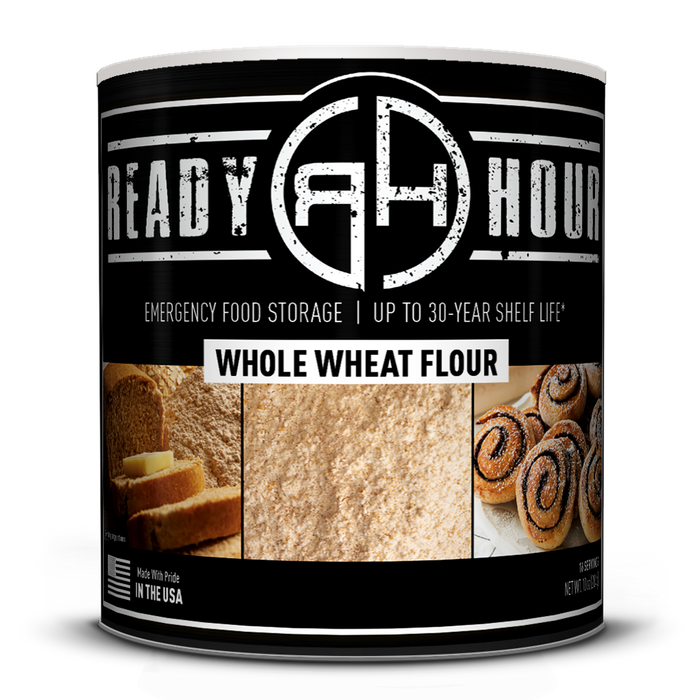 Ready Hour Whole Wheat Flour (58 Servings)
Limited-Time Product! This Item WILL Sell Out! Secure Yours Today.
This Whole Wheat Flour from Ready Hour isn't your run-of-the-mill pantry item. It's a versatile powerhouse designed for the uncertain times ahead.
Available only for a limited time, grab yours before supplies run out.
Weight: 3.83 lbs
Dimensions: 6.25" D x 7" H
Total Servings 58
Total Calories: 5,800
Ready Hour Whole Wheat Flour: Food You Can Trust in Troubled Times
Ready Hour's Whole Wheat Flour is more than just a simple baking essential. It's also:
Food in Tough Times: When things fall apart, this flour helps keep your meals coming. Turn basic ingredients into substantial bread, easy griddle cakes, or even flat bread when yeast is scarce.
A thickener and Calorie Booster: Running low on ingredients? Count on this flour to transform even the simplest soups and stews, adding texture and calories when you need them most.
A Surprising Emergency "Lifesaver": In an emergency, this flour doubles as a quick fix for household damages, works as a dry shampoo, and even acts as a hand cleaner!
Why Ready Hour's Whole Wheat Flour Stands Out
Dependable Lifespan: Trust in our 25-year shelf life,* keeping you prepared for decades to come.
Designed to Last: Each container is five times larger than a soup can and lasts decades longer than flour you buy at the grocery store.
Protected from the Elements: Shielded from sunlight, moisture, chemicals, and pests, our cans preserve the goodness within.
Extra Safe: On top of a water/pest-tight container, each can is packed with double the required number of oxygen absorbers to prevent spoiling.
*For optimal shelf life, store in a dry, cool location, ideally in a dark area at temperatures between 55°F and 70°F. Actual shelf life may vary based on individual storage conditions.