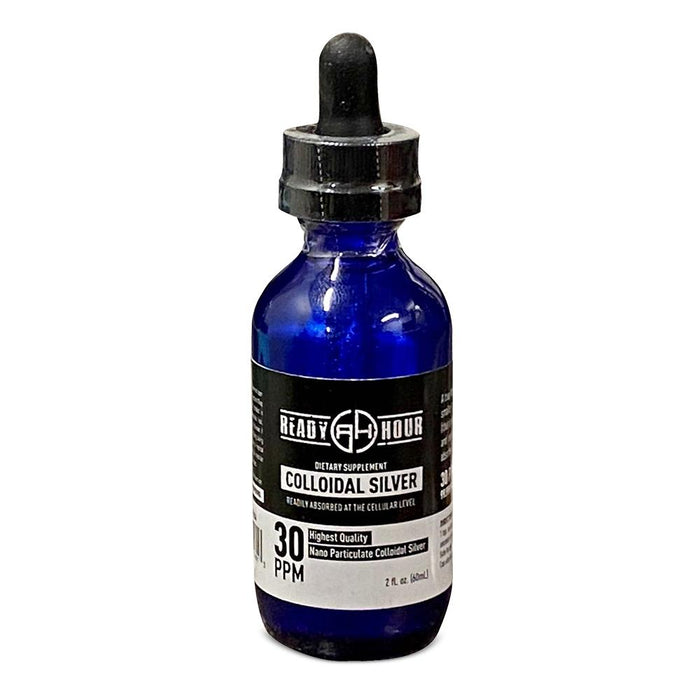 Ready Hour Colloidal Silver (2 fl. oz. 30 PPM)
30 ppm (parts per million)
This non-toxic, naturally occurring element has been used since ancient times to treat infections and heal wounds. Before the adoption of antibiotics, silver foil was wrapped around wounds to promote healing and prevent infection, and you'll still find silver in the surgical and medical equipment, bandages and topical ointments used in hospitals today.
Ship captains and pioneers were known to toss silver coins into storage barrels to purify and preserve drinking water, a concept still in use by astronauts to purify water and disinfect surfaces on the International Space Station. 
Possible Uses: 
Antimicrobial †
Antiviral †
Antibacterial †
Wound Treatment †
Fungal Treatment †
Cold / Flu †
Luckily, you don't have to go to the hospital (or outer space) to take advantage of the benefits of silver. Commercially available 99.999% pure colloidal silver (tiny particles of silver suspended in liquid) can be ingested and applied topically.
Directions: 1 tsp. on empty stomach - hold in mouth for 15 seconds before swallowing for best absorption. Any metallic taste is normal. Can also be used on cuts. 
This product is not intended for children under 12 or continuous use. Best if used 90 days after opening. 
Made in the USA.
† These statements have not been evaluated by the Food and Drug Administration. This product is not intended to diagnose, treat, cure, or prevent any disease.
If you are pregnant or nursing, taking medication, or have any medical condition, consult your physician before using this product.