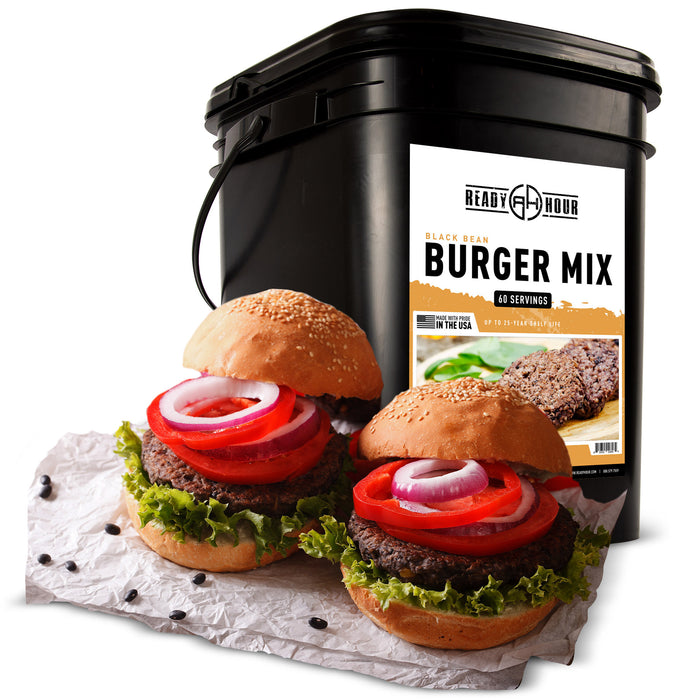 Ready Hour Black Bean Burger Bucket (60 servings, 10 pk.)
Even Meat Lovers Swear by These!
Want juicy, delicious burgers that are actually good for you (seriously, no guilt at all)?

Then add our Black Bean Burger Bucket to your emergency stockpile. You'll wonder why you haven't been making them all along!

A Flavor That "Can't Be Beat"...Just Ask Our Customers
These black bean burgers are so good, even meat lovers swear by them. 
Customers say they're "fantastic" with a flavor that "can't be beat" and "the best thing I have ever eaten!"
Prepare Only What You Need & Save the Rest. Lasts up to 25 Years*. 
With 10 resealable pouches, you can use only what you need and save the rest for later. Re-sealed pouches last up to a year; sealed pouches last up to 25 years.

Cooks Up Easy & Quick...Perfect for Emergencies
No freezing, checking expiration dates, or extra washing. This mix is safe and ready to go right out of the pouch. Simply mix with water and form into burgers, then cook and add and your choice of fixings.

Ready Hour foods require no refrigeration. This is vital when the grid is down.
Perfect for Easy Everyday Meals

Our black bean burgers have become a go-to weeknight dinner for thousands of Americans. It's a family favorite!
They're also great to keep on hand for when your vegan and vegetarian family and friends come over. 



*Store it in a cool, dry location where temperatures stay between 55 and 75 degrees for optimal longevity. Shelf life can vary depending on storage conditions.

To view nutritional panel, ingredients and directions click here
25-year shelf life unopened.
8.400 total calories.
Product weight is 5.34 pounds.
Comes in a rugged, water resistant bucket that measures 7.5" x 9.75" x 9.75"
Total water needed to cook entire case pack is 0.67 gallons. 

Product contains burger only. Buns and garnishes depicted in photos not included.