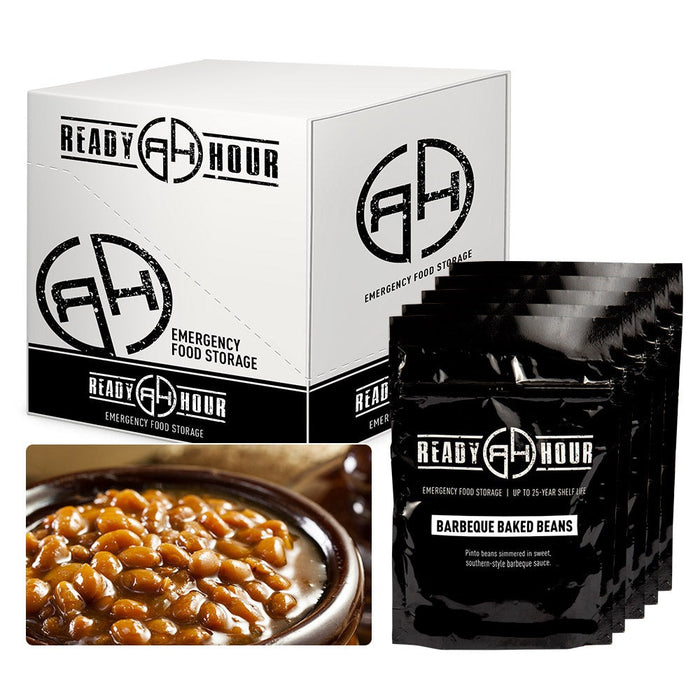 Ready Hour BBQ Baked Beans Case Pack
Bulk up your emergency meal supply with the Ready Hour BBQ Baked Beans Case Pack.
With this case pack on hand, you won't be left stranded in a survival situation without food your body needs. As long as you keep this case pack in stock, you'll stay fueled up for uncertain circumstances—and filled up on flavor you'll love.
What Makes These Beans Beneficial?
Convenience:

Mix up these beans with nothing but water. Let them simmer for up to 30 minutes, allow them to cool, then they're ready to eat. It's that easy!
Flavor: Fully immersed in a sweet, Southern-style sauce, the flavor of our BBQ Baked Beans will keep you coming back for more. These beans bring warmth, comfort, and a sweet and tangy taste to your tastebuds—no matter where you are.
Longevity: Packed into six resealable pouches, these heavy-duty packages were designed to withstand disasters. Store them on your shelf for up to 25 years* without relying on refrigeration—a luxury you'll have to live without whether you lose electricity, evacuate your home, or find yourself in a survival situation beyond familiar territory.
Versatility: Serve these beans on their own, as a side, poured over potatoes, or mixed into another meal, like chili or soup. Tuck them away for when times get tough, or pull them out of the pantry for comfort food on an ordinary day. Warm up with these beans in the winter, cook them over a fire, or bring them to a backyard BBQ!
Specifications:
25-year shelf life*
1,920 calories per pouch
11,520 total calories per case pack
3 gallons of water needed to prepare entire case pack
Case Pack boxes are 7 1/2 x 7 1/2 x 9 inches
*Store in a cool, dry location between 55°F and 70°F for best results. Actual shelf life for each product may vary based on individual storage conditions.