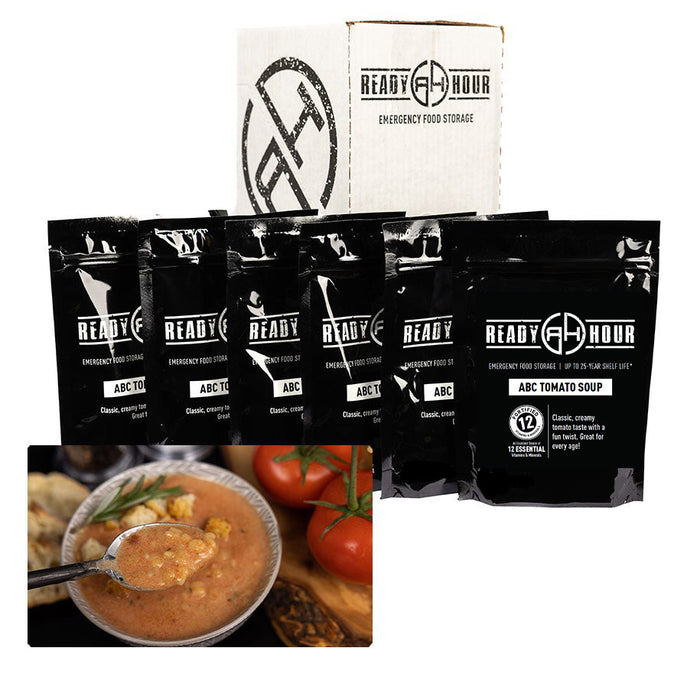 Ready Hour ABC Tomato Soup Case Pack (24 Servings, 6 Pk.)
Nothing Says "Happy" Like ABC Soup

Our ABC Tomato Soup Case Pack gives you that classic, creamy tomato taste with a fun twist that the whole family will enjoy.
But, it's not just full of flavor. This delicious soup is an excellent source of 12 essential vitamins and minerals!
Perfect for Picky Eaters

Our ABC Tomato Soup makes every spoonful fun and distracting for kids. With this delightful soup, dinner gives them something to look forward to in tough times.
Packed with Flavor
Using a recipe crafted after the tomato basil soups in America's favorite restaurants, our ABC Tomato Soup is extra creamy with notes of basil, garlic, and cream. Better than those soups at the store—and it lasts ten times longer!
Fortified Emergency Food

Our ABC Tomato Soup is fortified with essential vitamins and minerals for survival during emergencies. A single serving contains 25% of daily requirements for 12 vital vitamins and minerals.*
Click here for nutritional information.
Allergen alert: This product contains milk and wheat.
Preparation note: Total water needed to cook the entire case pack is 24 cups.
*The "Daily Value" tells you how much a nutrient in a serving of food contributes to a daily diet. 2,000 calories a day is used for general nutrition advice.