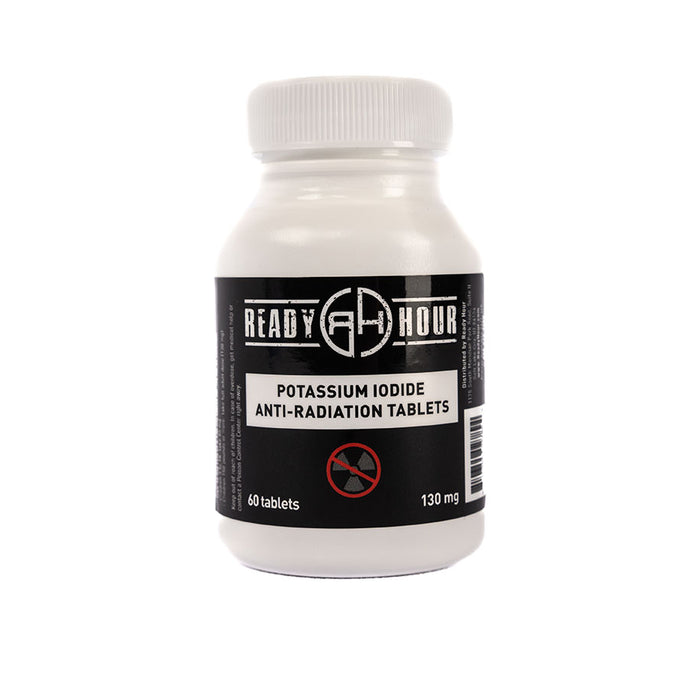 Potassium Iodide Anti-Radiation Tablets (130mg, 60ct)
Be Prepared for Nuclear Events & Radiation
In the case of a nuclear event, you need to be ready. Don't risk dangerous exposure to nuclear radiation. Stock our Potassium Iodide tablets. 
Made in the USA.
Why Should I Stock Potassium Iodide?
According to the CDC, in some radiation emergencies (usually nuclear power plant accidents), radioactive iodine may be released into the environment and enter the body through breathing or eating. This is known as internal contamination.
When the thyroid absorbs high levels of radioactive iodine, it can increase the risk of thyroid cancer in infants, children, and young adults many years after exposure. 
Potassium Iodide may be used as a thyroid blocker during a nuclear radiation emergency. Radioactive Iodine (I-131) can destroy the thyroid of humans and animals. Even small amounts of I-131 can cause cancer of the thyroid. By taking Potassium Iodide (KI), the thyroid becomes saturated with "good iodine" and cannot absorb the "bad iodine" I-131.
How KI Protects the Thyroid
KI and radioactive iodine are both types of iodine. According to the CDC, they are both absorbed by the thyroid. For KI to work, a person must take it before or shortly after exposure to radioactive iodine. When a person takes the right amount of KI at the right time, it can help block the thyroid from absorbing radioactive iodine. This happens because the thyroid has already absorbed the KI, and there is no room to absorb the radioactive iodine.
Daily Dosage:
Adults (including those breastfeeding): take 130 mg
Newborns from birth to 1 month (nursing & non-nursing): take 16 mg (1/8 of a 130 mg tablet or 1/8 mL of solution)
Infants and children 1 month to 3 years (nursing & non-nursing): take 32 mg (1/4 of a 130 mg tablet or 1/4 mL of solution)
Children 3 to 18: take 65 mg
Children 150 pounds or more: take full adult dose (130 mg)
Each pill is "X" scored for easy splitting
Take these 130mg tablets only as directed by authorities or your medical professional.
Tablets may be crushed and mixed with juice or milk. Animals or pets can take Potassium Iodide as well.
Each factory-sealed bottle of our Potassium Iodide has 60 tablets.
Ingredients:
Potassium Iodide (130 mg), Calcium Carbonate, Di-Calcium Phosphate Dihydrate, Corscarmellose Sodium, Stearic Acid.
WARNING: Consult your physician before taking Potassium Iodide if you have iodine allergies, dermatitis herpetiformis (DH), vasculitis, thyroid disease, or heart disease.
10 year shelf life. Store in a cool, dark and dry location for extended shelf life. Keep out of reach of children.   
Plastic Recycling Code: Plastic #2: HDPE
Weight of this product is 0.26 pounds