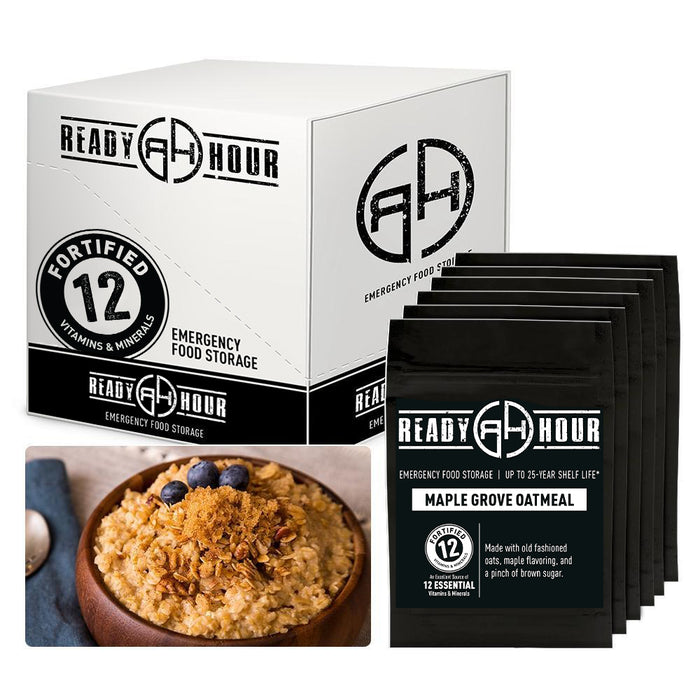 Ready Hour Maple Grove Oatmeal Case Pack (48 servings, 6 pk.)
NO SECRET, BEING PREPARED IS THE KEY TO SURVIVAL
Breakfast is one of the most important meals of the day. Start it off the right way with Ready Hour Maple Grove Oatmeal.
Not only is it tasty, but it is also easy to make. The great news is that Ready Hour Maple Grove Oatmeal lasts up to 25 years unopened,* and one year once you open the pack. You will never have to worry about not having emergency food when you need it. 
But best of all, this food is an excellent source of 12 essential vitamins and minerals.
All Ready Hour foods are sealed in heavy-duty packaging and are resealable. That way you can use what you want and store up the rest. Once you've opened a package, it is good for up to a year. 
Benefits:
Bulk cases with multiple pouches 
Ultimate in convenience and choice
Hot and hearty
Excellent source of 12 essential vitamins and minerals
Ideal for off-grid use
Up to 25-year shelf life unopened*
Up to 1-year shelf life after opening
Includes 6 pouches
8 servings per pouch
Requires no refrigeration
Weighs 6.79 pounds
Total water needed to prepare the entire case pack is three gallons. 
Click here to view nutritional information.
*Store in a cool, dry location where temperatures stay between 55°F and 75°F for optimal longevity.