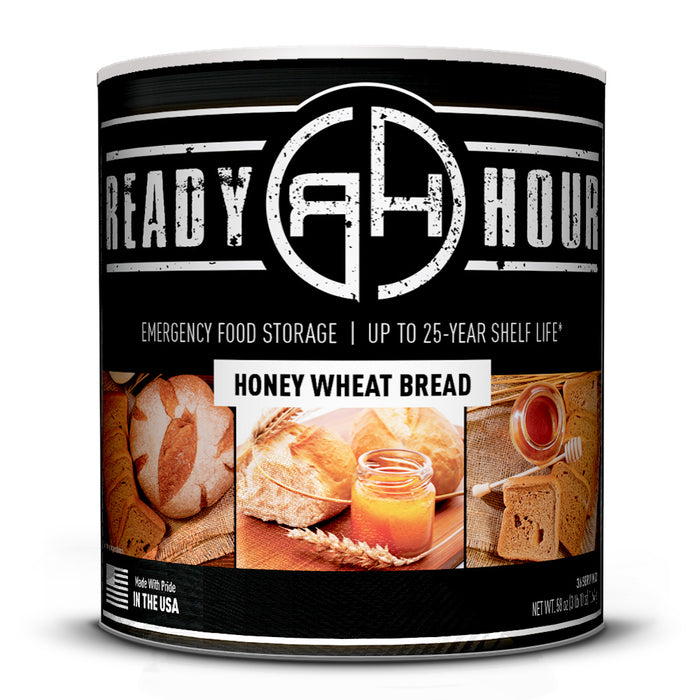 COMFORT WITH TASTE
What would you eat if you were stranded without power? It could happen. It does happen. A natural disaster, a breakdown in the delivery system, or a terrorist strike against the infrastructure could leave you without power. So could a simple rain storm.
Bread is a comfort food during any crisis. No waste here with our #10 cans. Ready Hour Honey Wheat Bread is handy when you want to make sandwiches and have no way of getting to a grocery store. Goes great with breakfast, lunch, dinner, and even good for a snack in between meals. This customer favorite can be used for making dinner rolls or camp bread easily.
Plus, it is an excellent source of 12 essential vitamins and minerals. Just what you need in an emergency.
Ready Hour foods require no refrigeration. This is vital when the grid is down. Our #10 cans are made of steel, they're waterproof and pest-proof, and they store easily on a shelf or in a closet. Store it in a cool, dry location where temperatures stay between 55°F and 75°F for optimal longevity.    
To view nutritional panel, ingredients, and directions, click here. 
25-year shelf life unopened

5,760 total calories

Weighs 4.4 pounds
Requires 0.3 gallons to prepare