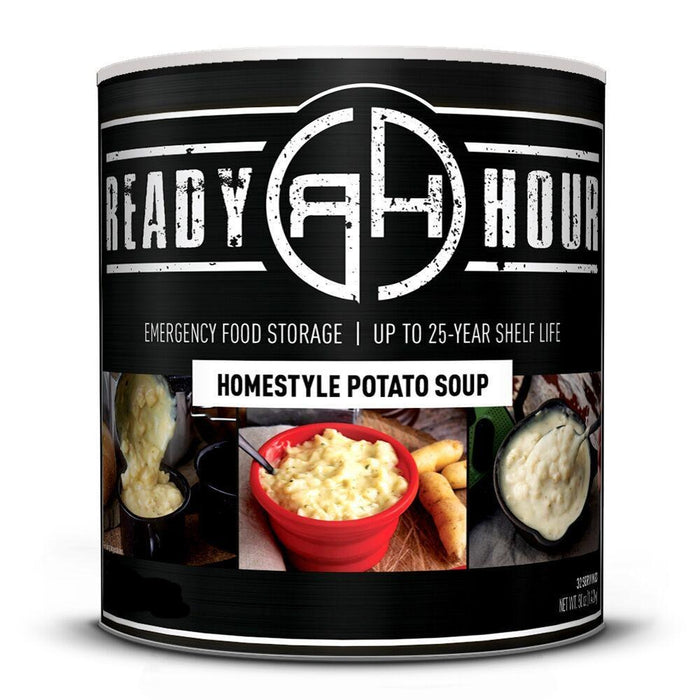 Ready Hour Homestyle Potato Soup (19 servings)
CHUNKY POTATO SOUP IS A CUSTOMER FAVORITE
The next best thing to our chicken soup is a bowl of hot potato soup, especially during the cold weather. When you have Homestyle Potato Soup on your pantry shelf and a big can in your emergency food kit, you will never have to worry about a crisis leaving you out in the cold! 
You get the added benefit of the #10 Can by Ready Hour which is 5 times bigger than a normal soup can found in grocery stores, which makes this the right choice for food storage. Emergencies are not a time to be unprepared without food. You need to survive and you need food. This soup fills you up with chunks of potatoes in a creamy sauce fit for the entire family. 
Ready Hour Homestyle Potato Soup lasts up to 25 years unopened, and one year once it is open.
Store it in a cool, dry location where temperatures stay between 55 and 75 degrees for optimal longevity. Ready Hour Products require no refrigeration. This is vital when the grid is down. Our #10 cans are made of steel, waterproof and rodent proof, and stores easily on a shelf or in a closet.
To view nutritional panel, ingredients and directions click here
25-year shelf life unopened.

5,510 total calories.

Product weight is 3.9 pounds.
Total water needed to cook entire #10 can is 1.2 gallons.