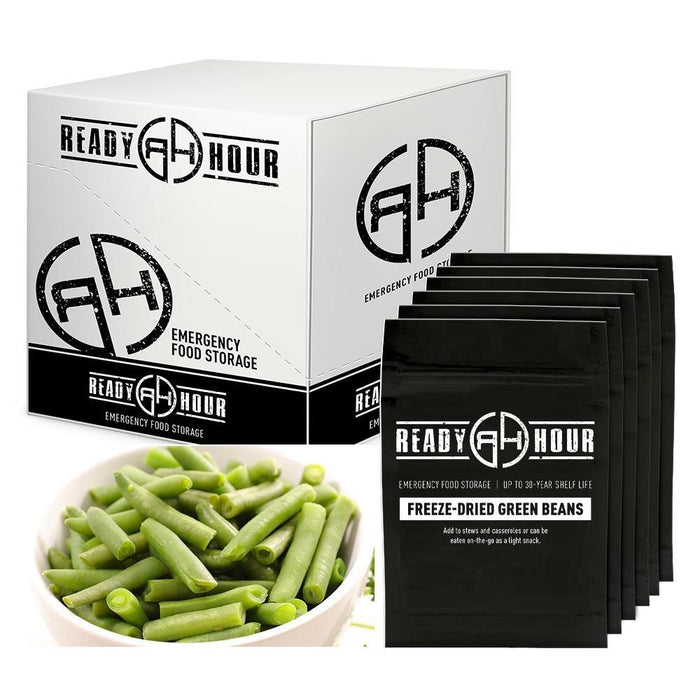 Ready Hour Freeze-Dried Green Beans Case Pack (48 servings, 6 pk.)
DELICIOUS GREEN BEANS FOR YOUR FAMILY
Green beans are among the most sought after vegetables in stir-fry, stews, and grilled-salads. They mix well with cheese, meats, etc. Ready Hour's freeze-dehydration method locks in the flavor.
Use in your favorite recipes or serve as a side item with any entrée. 
Benefits of Purchasing Case Packs:
Ultimate in convenience and choice
Easy to prepare
Packages are r

esealable zipper-top, 

heavy-duty 4-layer pouches

 with oxygen absorbers inside to extend shelf life

Great for camping and hiking trips
Includes 6 pouches
8 Servings per pouch
Requires no refrigeration
Gluten free
Weight is .95 pounds
Directions for Freeze-Dried Beans:
Open pouch and remove oxygen absorber. 
For one serving, mix 1/4 cup of green beans with 1/2 cup of warm water.
Let sit at room temperature for 30 minutes, or microwave for 1-2 minutes for rehydration. Drain excess water.