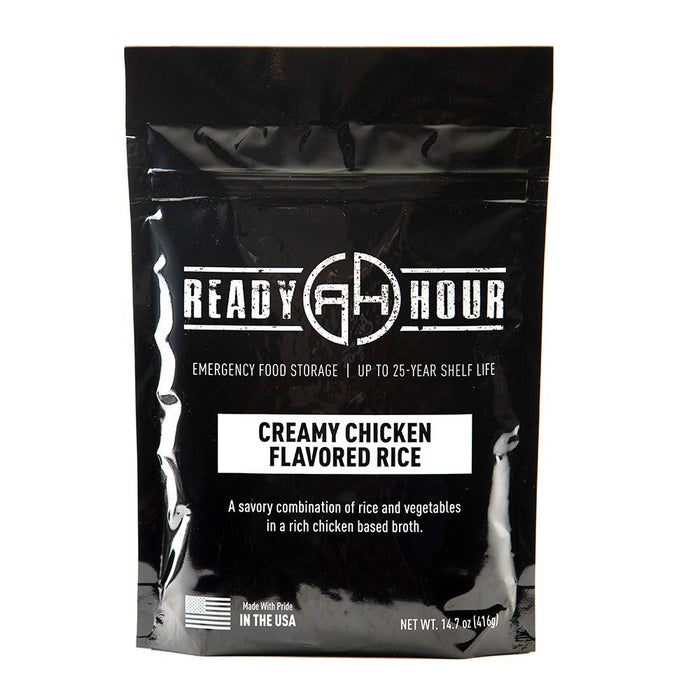 Creamy Chicken Flavored Rice Single Package (4 servings)
Ready Hour Creamy Chicken Flavored Rice is a customer favorite that everyone will love. Each resealable package contains four servings. 
Creamy chicken flavoring in gravy mixed with tender rice completes this meal and makes it a favorite your family will ask for again and again. 
Plus, it's an excellent source of 12 essential vitamins and minerals! Just what you need in an emergency.
To make this dish:
Open up the package and discard the oxygen absorber.
Add five cups of water to your pot, then mix in the entire package.
Cook for 20 minutes, stirring frequently.
Let it sit for two to three minutes, then serve.
Easy to make and delicious! By adding 2 1/2 cups of chicken broth, 2 1/2 cups of water, and some onion or garlic, you could spruce up this dish even more. Just make sure you come up with five cups of liquid to prepare it. 
This product has a shelf life of 25 years unopened, and one year once you've opened the package.*
Click here for nutritional information.

*It's best to store this emergency food in a dry, cool location—a dark area, if possible—at temperatures between 55°F and 70°F. Actual shelf life may vary based on individual storage conditions.