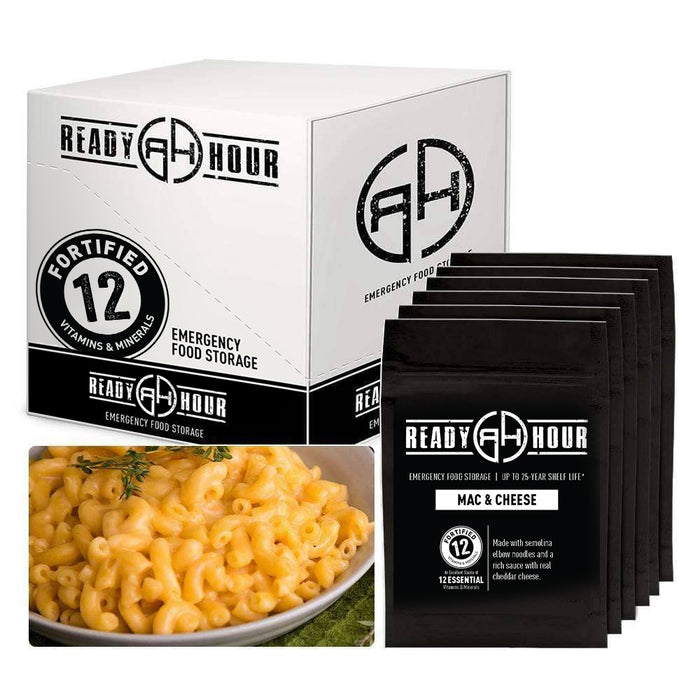 Ready Hour Mac & Cheese Case Pack (24 servings, 6 pk.)
COMFORT FOOD FOR TOUGH TIMES
During tough times in the past, our nation has always found ways to survive. Whether we will face anything near as bad as in times of war or the Great Depression, there are some foods that can help keep our moods high and spending low.
Ready Hour Mac & Cheese fits that bill. It comes in a case pack which has 24 servings in six individual packs. This offers much-needed convenience when you are able eat what you need now, and save the rest for years to come as part of your food storage plan.
Plus, this food is an excellent source of 12 essential vitamins and minerals. It lasts up to 25 years in storage.*
Being prepared isn't rocket science. It's a matter of having a plan. We provide the products to help make choosing your food a simple and cost-effective process. Move in the right direction with Ready Hour as your choice for food storage.
The Mac & Cheese Case Pack boxes are 9 x 6 1/2 x 9 inches. The net weight is 11.99 oz (340g) per pouch for a total combined weight of 71.94 oz (2040g).
Click here to view nutritional information.
*It's best to store this emergency food in a dry, cool location—a dark area, if possible—at temperatures between 55°F and 70°F. Actual shelf life may vary based on individual storage conditions.

**1.7 gallons of water are needed to prepare entire case pack.