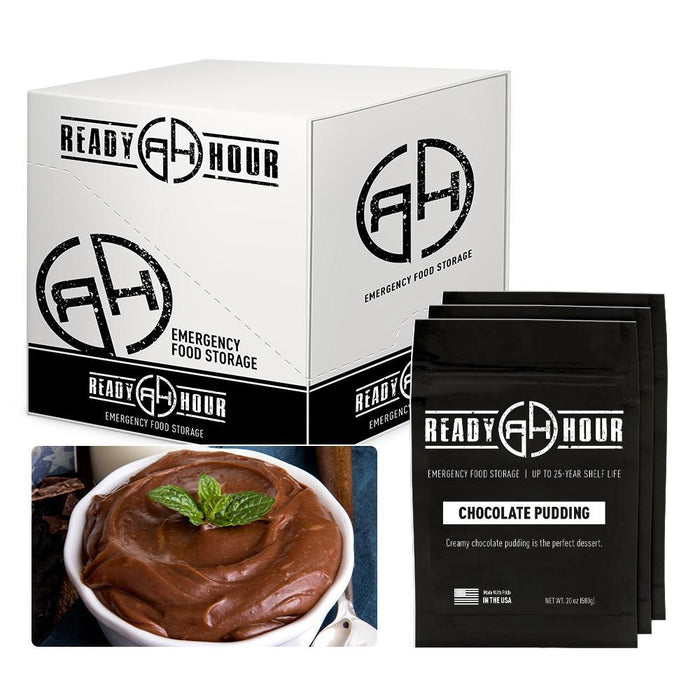 Ready Hour Chocolate Pudding Mix Case Pack (30 servings, 3 pk.)
CHOCOLATE BENEFITS
Ready Hour Chocolate Pudding is a high-quality sweet treat you can easily make at home. When you are down and out and facing an emergency, nothing is better than a little comfort in times of stress. We all know chocolate can soothe away our worries at times.  
What's the Difference? 

Ready Hour requires no refrigeration, no need to worry about not having electricity and food spoiling. Ready Hour Chocolate Pudding is perfect when you need a dessert and don't have a lot of ingredients on hand. Delicious chocolate your family will love!
All Ready Hour packages are sealed in resealable zipper-top, heavy-duty 4-layer pouches with oxygen absorbers inside to extend shelf life. That way you can use what you want and store up the rest. Once you've opened a package it is good for up to a year. Case packs make throwing a bag of your favorite Ready Hour foods into your go bag, or take with you on any sudden trip.
Weighs 3.8 pounds. 
Total water needed to cook entire case pack is 0.9 gallons