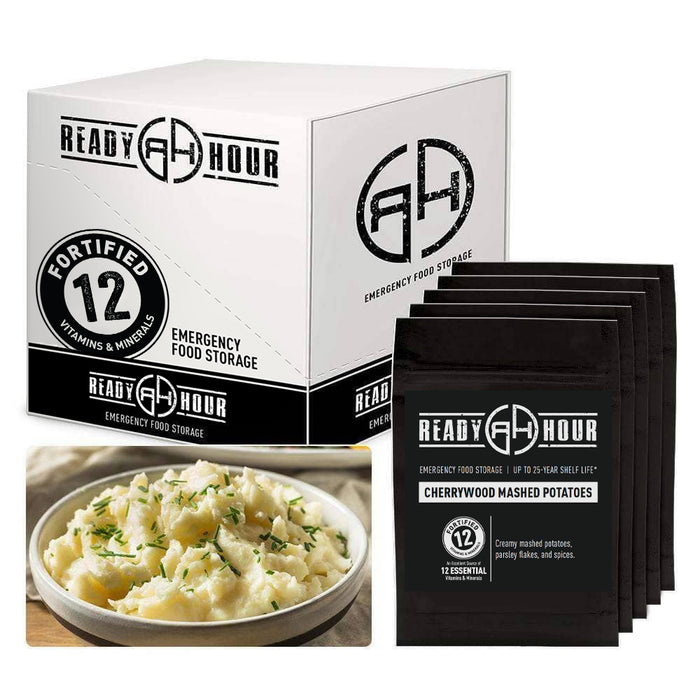 Ready Hour Cherrywood Mashed Potatoes Case Pack (40 servings, 5 pk.)
EASY TO PREPARE AND SERVE WITH ANY MEAL
No doubt about it...the potato is clearly the most popular vegetable in the United States. They are easy to prepare and easy on the wallet. 
Ready Hour Cherrywood Mashed Potatoes are a perfect addition to your family meal. Use them as a side dish, to top your Shepherd's Pie, or as your main dish with meat and gravy on top. 
They're an excellent source of 12 essential vitamins and minerals.
Our mashed potatoes lasts up to 25 years unopened, and one year once you open the can. Store it in a cool, dry location where temperatures stay between 55 and 75 degrees for optimal longevity. 
All Ready Hour packages are sealed in heavy-duty packaging, and are resealable. That way you can use what you want and store up the rest. Once you've opened a package it is good for up to a year. They are perfect for storing up for an emergency, just make sure you keep it in a rodent-proof container for long term storage.
Product weighs 3 pounds.
Total Water needed to cook entire case pack is 1.9 gallons 
Click here to view nutritional information