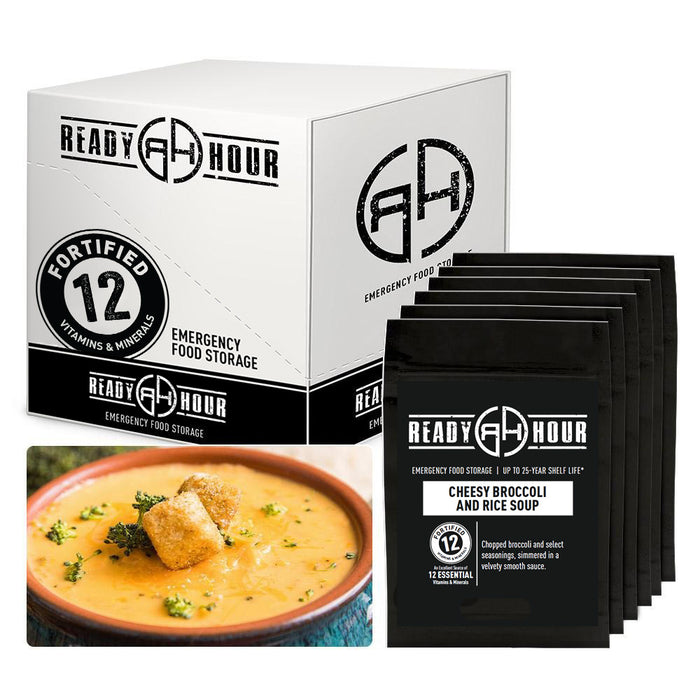 Ready Hour Cheesy Broccoli Soup Case Pack (24 servings, 6 pk.)
GET READY FOR THIS AMAZING SOUP
Our Cheesy Broccoli Soup gives you the makings of a hot lunch or dinner that your whole family will love anytime. Much easier and more affordable than going out for pizza or burgers, our Cheesy Broccoli Soup speaks to that natural urge for warm, comforting, and flavorful sustenance.
Plus, this delicious soup is an excellent source of 12 essential vitamins and minerals! This food is fuel.
Our case packs allow you to buy in large quantities without wasting what you don't use right away! These case packs come with multiple pouches of food. This helps you maintain the shelf life of your food until you're ready to cook it. 
Cheesy Broccoli Soup Benefits:
Bulk cases with multiple pouches
Ultimate in convenience and choice
Excellent source of 12 vitamins and minerals
Easy to prepare
Up to 25-year shelf life unopened

Up to 1-year shelf life after opening
Includes 6 pouches
4 servings per pouch
Requires no refrigeration
Gluten-free
Weighs 3.4 pounds
Total water needed to cook the entire case pack is 1.7 gallons.