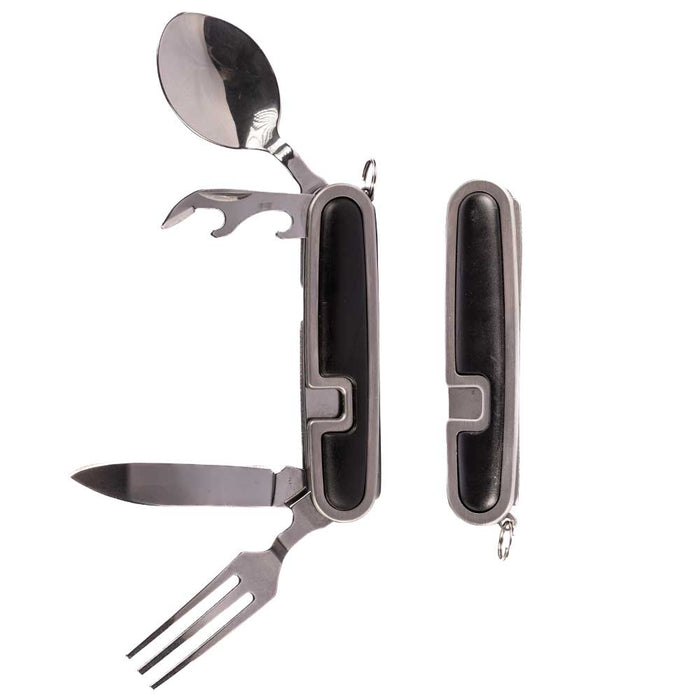 Folding Cutlery Tool (2-pack)
UPGRADE YOUR PREPS!
Pack These in Your Go-Bags, Cabin, & More.
Loose silverware is a BAD CHOICE in an emergency. It's awkward to pack, noisy to carry, and can puncture your go-bag and supplies.
Time for an upgrade...
Get a Ready Hour Folding Cutlery Tool two-pack with HIGH-CARBON STEEL utensils for every meal:
1 Fork - 1 Spoon - 1 Knife - 1 Can Punch / Bottle Opener (Per Tool)
Detachable Fork and Spoon with Handles
Comfortable Rubber Grips for Easy Handling
ALL neatly folded into a super-durable casing that EASILY STOWS AND CARRIES.  
You NEED the Ready Hour Folding Cutlery Tool everywhere you prep — your go-bag, emergency stockpile, car, and cabin. Pick up one for everyone in your crew today.
When it's time for supper, this is the ultimate utility tool. 

Specifications
Weight: 95g per tool
Folded Size: 3.5" L x 1.25" W