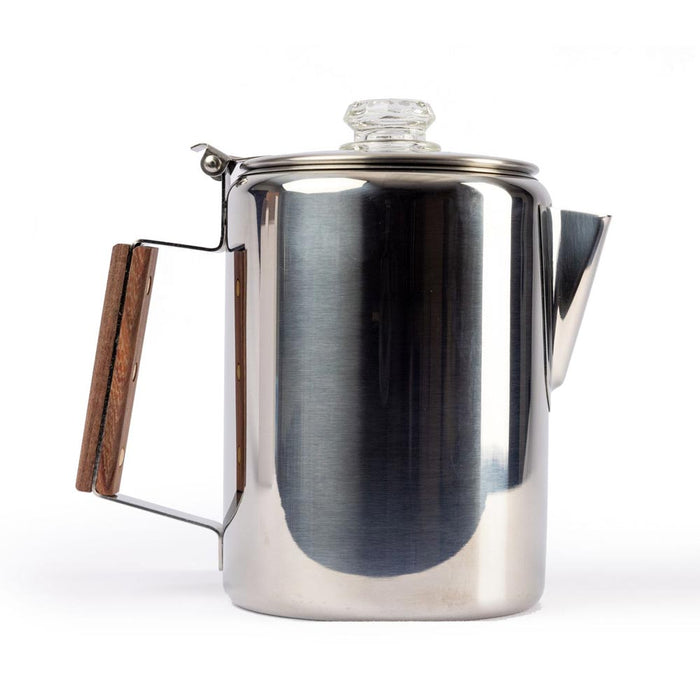 9 Cup Coffee Pot by Ready Hour
Coffee Done Right
Brew smooth, energizing coffee with Ready Hour's 9 Cup Coffee Pot.
Its polished stainless steel construction resists corrosion and gives you a durable pot perfect for the outdoors. Stainless steel is much stronger than aluminum making it less prone to dents, scratches, and warping. 
Brew a larger volume and more robust coffee with the percolator system. Percolator pots often produce a robust and full-bodied coffee flavor (preferred by many coffee enthusiasts) especially when brewed over an open fire. Useable on an open fire or a camp stove.
The large basket also helps with volume as well as better extraction, which can create a more flavorful cup of coffee. 
Get far fewer grounds in your coffee with the interlocking basket system as well as a a convenient pour with the quick-open lever on the lid*. 
Features: 
Made of Polished Stainless Steel
Large Basket for better extraction
Percolator System
Use on a camp stove or over an open fire
Interlocking Basket System to reduce the amount of grounds that get into your water
Quick-Open Lever on pot lid
*CAUTION: Pot and lid lever will be HOT after brewing.