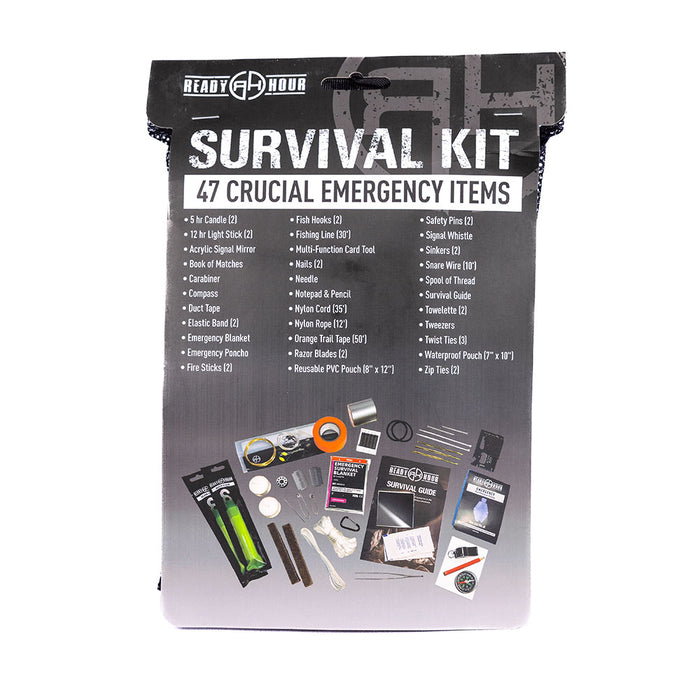 Ready Hour 47-Piece Survival Kit
When unexpected events unfold, having a survival kit isn't enough—you need the proper tools to face any challenge.
Presenting the Ready Hour 47-Piece Survival Kit, carefully assembled to provide a versatile set of tools that can assist you in emergencies and everyday situations.
Encased in a robust PVC pouch, this kit is perfect for your vehicle, home, cabin, or emergency bag. Its sturdy construction means you can carry it wherever life takes you!
Here's what's packed inside:
Candles (5-Hour) x 2
Light Sticks (12-Hour) x 2
Signal Mirror (Acrylic)
Matchbook
Carabiner Clip
Navigation Compass
Multi-Use Duct Tape
Elastic Bands x 2
Thermal Emergency Blanket
Weatherproof Poncho
Fire Starters x 2
Fishing Hooks x 2
Fishing Line (30 ft.)
Multi-Purpose Care Tool
Nails x 2
Sewing Needle
Writing Notepad & Pencil
Nylon Cord (35 ft.)
Nylon Rope (12 ft.)
Trail Marking Tape (Orange, 50 ft.)
Razor Blades x 2
Reusable PVC Pouch (8" x 12")
Safety Pins x 2
Emergency Whistle
Fishing Sinkers x 2
Snare Wire (10 ft.)
Thread Spool
Survival Handbook
Cleansing Towelettes x 2
Precision Tweezers
Twist Ties x 3
Waterproof Storage Pouch (7" x 10")
Cable Ties x 2
Whether you're on a camping trip, traveling, or simply commuting, it's a constant reminder that you're equipped to handle anything.
WARNING: This product can expose you to chemicals including lead, which is known to the State of California to cause cancer, and phthalates, which is known to the State of California to cause birth defects or other reproductive harm. For more information go to www.P65Warnings.ca.gov.