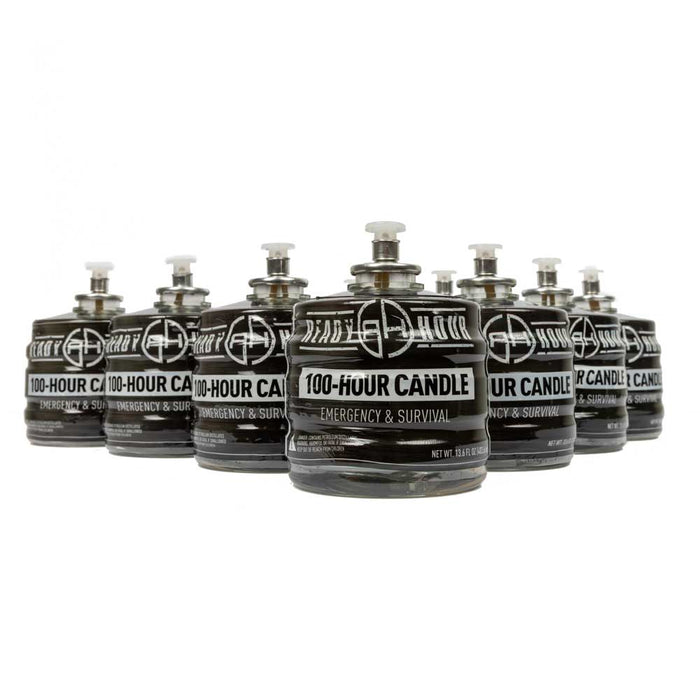 100-Hour Candle for Emergencies (12-pack)
The 100-Hour Candle twelve pack is a cost-effective, efficient light source for emergency and survival applications. Each 100-Hour Candle is clean-burning, odorless, and smokeless, making it a safer choice for indoor use. It features a proprietary blend of paraffin and other liquids to maximize the life, light and warmth of the candle. Shatterproof container is lightweight, yet designed for stability. Simply replace the cap for easy storage and transport.
Reliable, long-lasting light when and where you need it. A must-have for any emergency kit - great for traveling and camping, too. From unexpected storms to true emergencies, power is often the first resource lost. Count on night after night of reliable light with a reliable candle.
Emergency Candle Features:
Proprietary blend of paraffin and other liquids
Clean-burning, odorless and smokeless
Up to 100-Hour burn time with 1/4 inch wick
Adjustable wick for more light
Light, safe and sturdy plastic container
Re-sealable cap for easy storage and portability
Fuel won't break down over time
Proudly made in the USA
Provides up to 7 lumens of light

3.5" Wide x 4 1/4" Tall x 11" round
Your 100-Hour Candle requires little maintenance. We recommend the following care:
Simply cap tightly for storage and portability
Replace cap when not in use to reduce evaporation
As with all combustibles, replace cap when not in use
Do not store near heat sources or in areas of high temperatures
The fuel is Tetradecane.
The Wick is made of cotton and is mercury free. Before each use, trim the wick to 1/4" before lighting the candle.