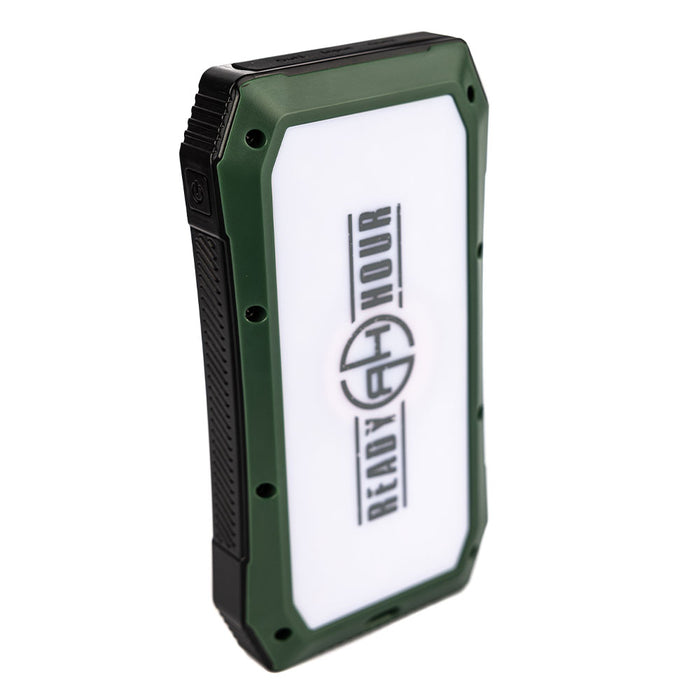 Ready Hour Wireless Solar PowerBank Charger & 20 LED Room Light
Introducing the potential of the Wireless Ready Hour Solar PowerBank Charger & LED Lig

ht

This wireless solar charger is rugged and dependable, perfect for emergencies, natural disasters and power outages. It's waterproof too. Take it camping or on a hunting trip. Keep in your RV or cabin.

Any time you're outdoors and need to charge your devices or gear, you'll want a powerful device like this.
A TRUE POWERHOUSE
High-Powered Charging: Stay connected with sustainable power to carry you through the unexpected! No sub-standard power here...has 20,000 mAh power capacity.
Power the devices you depend on, anytime and anywhere—three devices at once with 2 USB ports & 1 USB-C port or a single device like a cell phone four times before recharging.
Whole-Room Light: Or count on the bright, long-lasting LED bank of lights. Once you see this unit, you'll want every member of your family to have one.
Fast Charging: Two of the three USB ports on this device are fast chargers, so you won't have to sit around and wait for hours. Or, set your device or cell phone on the wireless charging surface!
BUILT TO LAST LONGER 
Water & Drop-Proof Casing: Carefully crafted with a premium silicon protective case - a durable build with side grips that makes it easy to hold or use the lanyard clip - waterproof and shockproof.
High-Energy Density Lithium Ion Battery: Put through rigorous testing to ensure durability
SPECS
Charge on the Go - 3 USB Cable Outputs. Output 1: 5V/3A; Output 2: 5V/3A, 9V/2A, 12V/1.5A; TYPE-C Output 3: 5V/3A, 9V/2A, 12V/1.5A.
Fast Charging - Solar Panel, Micro-USB & USB Type-C input to charge, charge and discharge more than 800 times; include a 4-stage power-level indicator; can recharge in approximately 60-90 minutes by wall outlet, depending on power adapter block.
Solar Panel & Wireless - Cut the cord - use the sun and recharge your devices on the wireless pad; compatible with iPhone, Android, Mac, and PC. *
LED Bank of Lights - Hold on/off button to turn on a bright panel of LED lights with a flashing red light "S.O.S" signal mode, puts out 520 lumens
Dimensions - 4" x 1.2" x 7.38" and weighs 1.55 pounds 
What's in the Box - Wireless Solar PowerBank Charging Unit, micro-USB cord, manual
Storage: Optimal storage conditions range from 30-100 degrees Fahrenheit. Do not expose to temperatures above 140 degrees Fahrenheit. 
Battery Care: As with all battery-run devices, proper upkeep is critical for the prolonged function of this unit. If the unit is left to sit for long periods, the battery can drain and even become inoperable. Make sure to charge the battery every few months to extend its life and performance. 
*The solar panel with this unit is primarily intended to power your LED flashlight. A couple hours of intense sunlight equals a couple hours of LED flashlight power. 
Although the power bank will charge via solar panel, that is not the primary intent on having the solar panel. The conversion rate for this size of solar panel under optimal, full sun conditions is 550 mAh per hour. It would take on average about 40 hours to fully recharge the 20,000 mAh battery once the sun's rays are intense enough to reach the maximum conversion rate. On a full battery, the LED flashlight can last up to 72 hour. It is recommended to have this unit standing by, fully charged by by an electrical outlet, ready for use during emergencies. 
WARNING: This product can expose you to chemicals including Di(2-ethylhexyl)phthalate (DEHP), which is known to the State of California to cause cancer and birth defects or other reproductive harm. For more information go to www.P65Warnings.ca.gov.