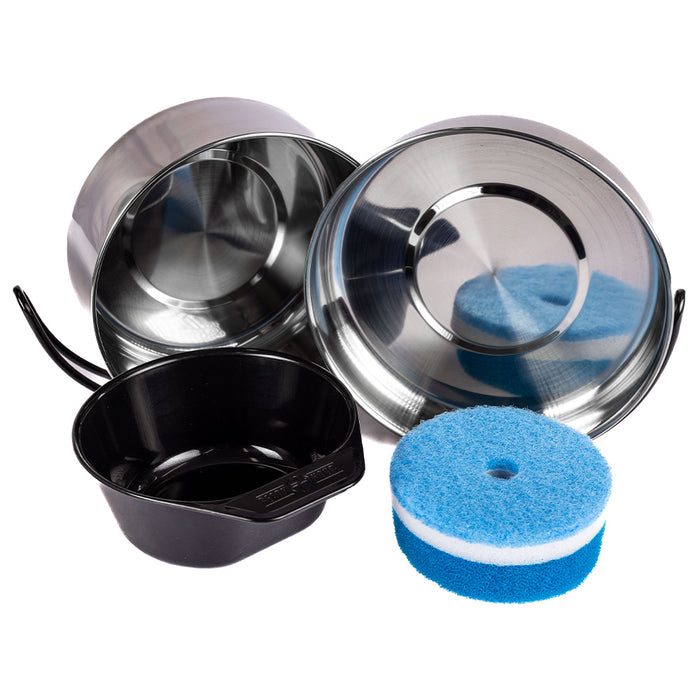 Stainless Steel Mess Cooking Kit (5 piece)
When prepping for worst-case scenarios, it's crucial to choose items that are compact, easy to carry, and serve more than a single purpose.
With the Ready Hour Mess Cooking Kit, you can cook without the weighty clutter.
Compact and Convenient
This mess kit's five components can be stacked seamlessly to create an all-in-one storage solution. Whether you keep this kit in your basement, car, or bug-out bag, you'll have easy-to-carry cookware essentials whenever you need them.
This mess kit includes:
(1) 34-ounce pot
(1) 17-ounce pan (doubles as a lid)
(1) BPA-free mug
(1) Scrubber
(1) Nylon mesh bag
The Ready Hour Mess Cooking Kit only takes up 6.25" x 6.25" x 4" of space when packed into the convenient carrying bag.
With curved, swing-out handles, this kit's pot and pan are perfectly circular when packed up! You won't have to worry about protruding pieces that make storage a hassle.
Built to Endure Emergencies
Made from 201 stainless steel, the Ready Hour Mess Kit is durable enough to withstand disasters without damage.
Featuring silicone-coated handles for heat-free carrying, this kit was designed to be used with stoves and other heat sources. Once you've eaten your food, the included scrubber will make sure your supplies are clean and ready to use for your next meal!
With cookware, drinkware, and the means to clean it all up, this mess kit is a must you need to add to your supply.