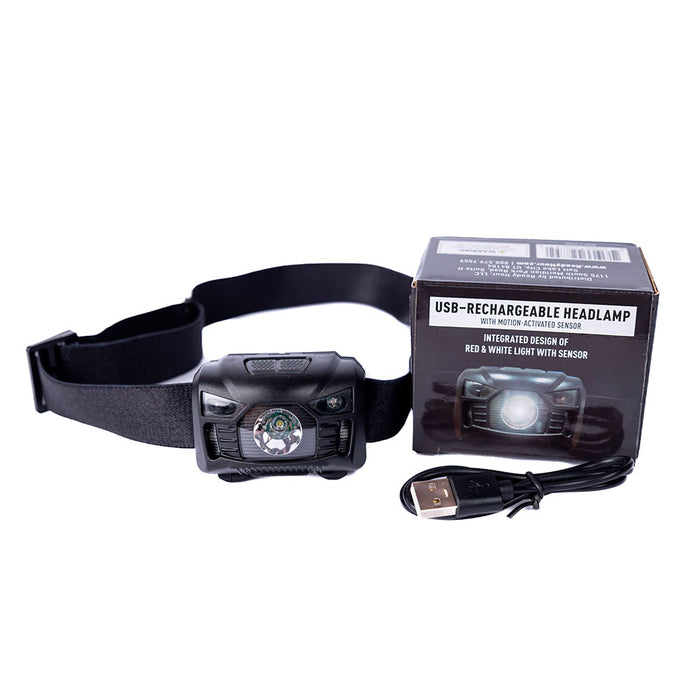 Rechargeable Sensor Headlamp
Fully-Rechargeable, Motion-Activated Headlamp Provides
20 HOURS of LIGHT

!


When the power goes out, you're going to want a hands-free solution for lighting your way in the dark. Ready Hour's Rechargeable Sensor Headlamp is fully rechargeable and doesn't need batteries. 

Lightweight and compact, you can store it in your kitchen drawer, bug-out bag, or vehicle. Better yet, get this bright white LED headlamp for multiple locations. Even take it with you on camping and hiking trips to ensure you always have a source of light. 

This is a true hands-free headlamp. A simple wave of your hand in front of the sensor, and on comes the bright white LED lamp. Switch between red and white light sequences with the touch of a button. Choose maximum, dim, or a strobe light mode to signal for help in an emergency.

Keep it well-charged (takes about 2.5 hours) and it will provide 150 lumens of light for 20 continuous hours.

Make sure this headlamp is in your supply bag, camping kit – and everywhere else you might need one.

Features:
Working time: 4 to 20 hours
Charging time: 2.5 hours
Battery: built-in lithium-polymer battery (3.7V/1200 mAh)
Dimensions: 2.4" x 1.6" x 1.4" (60 mm x 40 mm x 35 mm)
Weight: 2.6 oz. (74 g)
Not suitable for use in extreme temperatures.