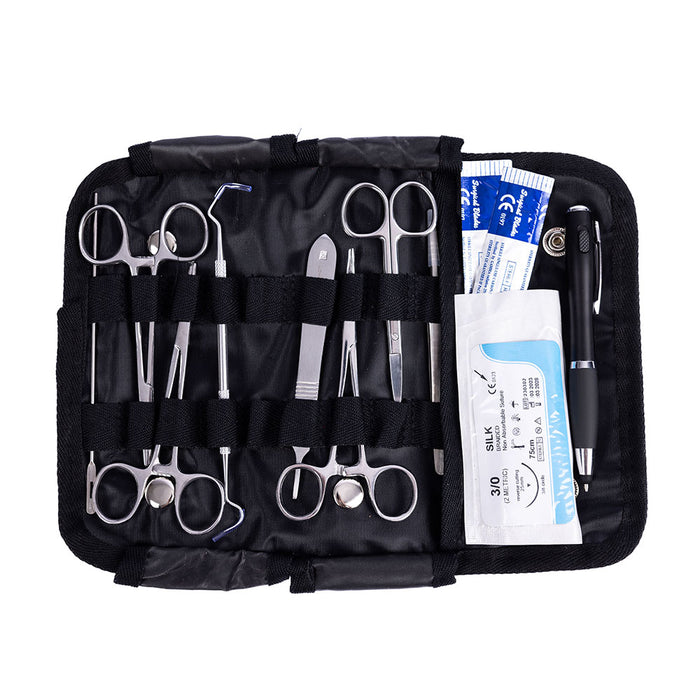 Emergency Surgical Kit (12 pieces)
A CRITICAL KIT IN CRISIS
In an emergency, you're even more at risk for accident or injury. You might get a gash on your way into the wilderness, or you may take a crippling fall from a cliff.
When circumstances are dire and medical help is out of reach, reach for our Emergency Surgical Kit.
This kit includes:
(2) Straight hemostats
(1) Curved hemostat
(1) Pair of scissors
(1) Pair of tweezers
(1) #3 scalpel handle with measurements
(2) Scalpel blades
(1) Suture set
(1) Suture holder
(1) Needle probe
(1) Pen light
(1) Ready Hour pouch with belt clip

(

7 7/8" x 1" x 3 1/2"

)
TAKE CONTROL OF YOUR CARE
With our Emergency Surgical Kit, you can take your medical needs into your own hands. After all, you may not have any other option in an emergency!
Here's what sets these surgical tools apart:
FOR SURVIVALISTS, BY SURVIVALISTS – Every second counts when it comes to your survival. With this kit, you'll always have quick and easy access to essential tools.
UNMATCHED QUALITY – Made from high-grade stainless steel, each tool stays sharp and ready to use when you need it. You won't have to worry about rust, either!
COMPACT & COMPREHENSIVE – Contains all the items and tools you need to manage minor surgery, carefully and conveniently packed into a single pouch. It's light and easy to carry when the terrain is rough and rugged!
DESIGNED FOR DURABILITY – These tools have no expiration date. They'll last you through every emergency.
Instruments are not sterile.