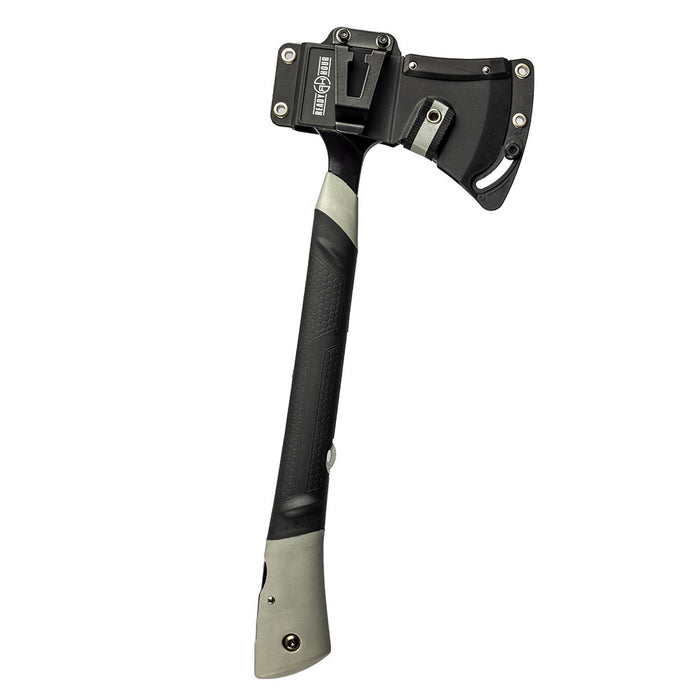 5-in-1 Bushcrafter Hatchet by Ready Hour
MAXIMIZE YOUR PREPAREDNESS POTENTIAL
NOTE: For your safety, the hatchet arrives unsharpened. Be sure to sharpen the blade before first use for maximum impact.
Rugged, reliable tools for survival and self-defense are non-negotiable when your survival is on the line.
Preparedness experts, outdoor adventurers, and self-reliant souls alike will find solace having our 5-in-1 Bushcrafter Hatchet at their side.
Forged with true survival in mind, this dependable tool takes five essential functions and combines them with convenience, compact size, and crisis-ready durability.
Includes a hammer, hatchet, saw, sharpener, and tent peg puller.
Built from high-quality, durable materials for long-lasting utility.
Boasts a full tang design for less reverberation and more power.
Features rust-resistant blades to withstand extreme weather conditions.
Lightweight and small, this tool is easy to pack and transport.
Patent pending design.
 You can't get this tool anywhere else.
VERSATILITY IN SURVIVAL
The 5-in-1 Bushcrafter Hatchet by Ready Hour embodies the spirit of survival, equipping you with what's needed to open up paths, construct shelter, make and take down camp, and ultimately, make it out alive. 
Hammer – The integrated hammer head infuses strength into your survival. Drive tent stakes into tough terrain, pound nails into wood projects, and feel secure in your surroundings knowing your shelter will stand against any storm.
Hatchet – With a durable, full tang blade, this hatchet is an ideal option for clearing brush and branches, cutting rope, chopping firewood, and building a campfire. 
Saw – Use this rigid, reliable blade to carve your way through the wilderness. Tucked into the bottom end of the handle, these teeth can effortlessly slice through brush, branches, small trees, and other wooden obstacles.
Sharpener – Keeping your cutting tools sharp is critical to optimal, lasting performance. With the built-in blade sharpener, you'll remain ready to tackle whatever awaits!
Tent Peg Puller – Taking care of camp is much easier with the proper tools for the task. Seamlessly pull out tent pegs—and nails—with the tent peg puller. Truly leave no trace when uprooting camp to the next location.
Hatchet Weight: 2.4 pounds
Shipping Weight: 4 pounds
Top to Bottom Length: 15.5 inches
Hatchet Head Length: 5 inches
Bugging out, in the bunker, or on an outdoor adventure, you can rely on our 5-in-1 Bushcrafter Hatchet.