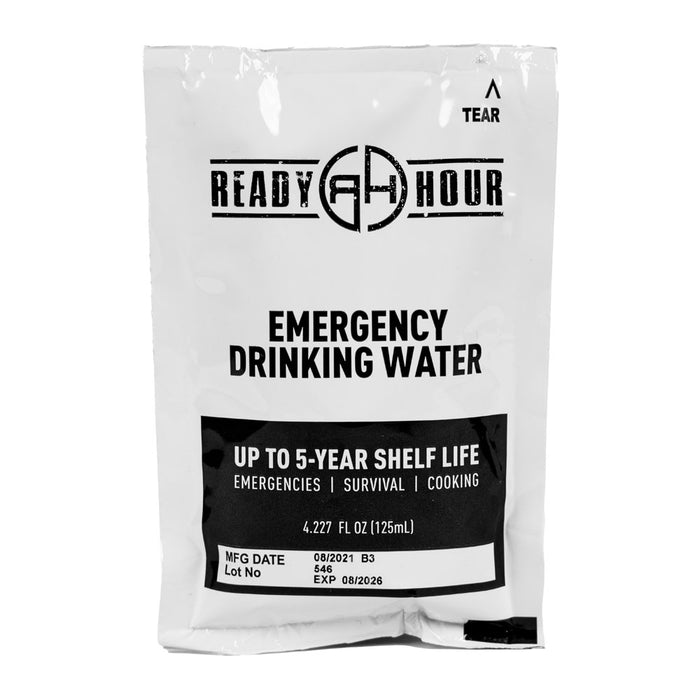 Ready Hour Emergency Water Pouch Case (64 pouches)
2x the Shelf Life. 3x More Protection!
Plastic water bottles are a petri dish of mold, bacteria, and chemicals. Unlike plastic bottles that let in sun, grow bacteria, and leach chemicals, these BPA-free pouches are made with four thick, puncture-resistant layers that keep out contaminants.
It's why they have a FIVE-YEAR SHELF LIFE.
Reverse-Osmosis Filtration
Water is filtered multiple times through reverse-osmosis purification. 
Fit GALLONS of Water into Your Bug-Out Bag
Each pouch is nearly flat, six inches long, and easy to squeeze into tight spaces. Now you can fit GALLONS of water into your bug-out bag!
More Water, Less Leakage
We all know how water bottles leak once they're opened.
Ready Hour Emergency Drinking Water come in SINGLE-USE pouches that reduce spillage and conserve water in emergencies.
Specifications
4.227 fl oz Water Per Pouch
6" x 4" x 1/2" Per Individual Pouch
64 Pouches in a Case
Case Total Volume: 279 oz (2 gal)