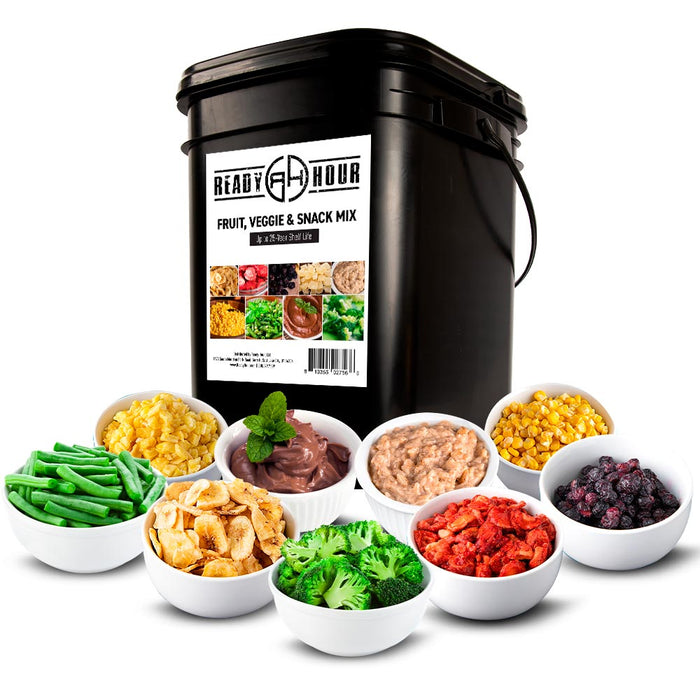 Ready Hour Fruit, Veggie & Snack Mix (122 servings)
Makes the Perfect Add-On to Any of Our Food Kits
Ready Hour knows how to put together a kit that is tasty and filling for your emergency food supplies. The Fruit, Veggie & Snack Mix provides 122 servings of flavorful fruits, vegetables, and snacks that last up to 25 years in storage. 
Contains: 
Click on the food names below to view their nutrition facts. 
These freeze-dried vegetables and fruits are a popular addition that complements any emergency food plan.
Advantages:
Resealable zipper-top, 

heavy-duty 4-layer pouches

 with oxygen absorbers inside to extend shelf life

Up to 25-year shelf-life unopened
Up to 1-year shelf-life after opening
Includes 9 varieties of veggies and fruits
Requires no refrigeration
Kids love to snack on these fruits and vegetables
Excellent add-on item to any Ready Hour Kit
Gluten-Free Product
Weighs 6.15 pounds
This kit comes packed in a rugged, water-resistant bucket (measures 9.75 x 11.75 x 13.75 inches) for easy storage.