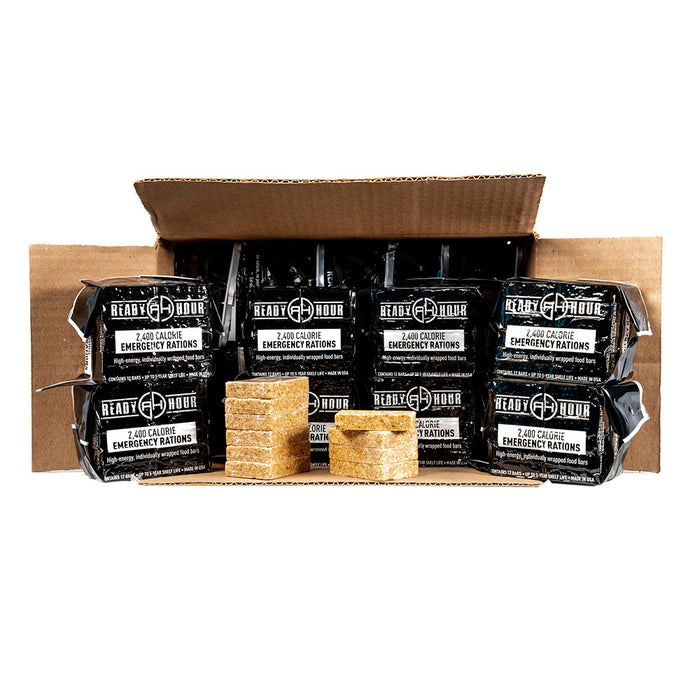 Ready Hour 2,400 Calorie Emergency Ration Bars (30-Pack)
The Superior Survival Bar
It's widely known in the preparedness world that ration bars are rarely a treat. They're typically chalky, stale, and hard to swallow—among other unpleasantries.
Ready Hour 2,400 Calorie Emergency Ration Bars are anything but. Easy to bite into with a sweet shortbread taste, these ration bars are the only ration bars you'll want in an emergency.
Product Details
30-pack contains 72,000 total calories.
Made with just six all-natural ingredients.
Buttery-sweet cookie taste and flaky texture.
Doesn't provoke thirst.
Lasts up to 5 years.*
Individually wrapped and vacuum-sealed in polymer-foil packaging.
Each pack measures 6" x 4" x 5" and weighs 16.93 ounces.
Proudly made in the USA.
Click here to view nutritional panel, ingredients, and directions.
Made for a Month of Survival
Every pack in this 30-pack supply includes 12 ration bars, each containing 200 calories. With a single pack, you'll have a whole day's worth of calories covered.
With this 30-pack, you'll have a whole month!
Store them in your basement, car or RV, and bug-out bag. Wherever you may find yourself stuck in a crisis, the Ready Hour 2,400 Calorie Emergency Ration Bars will save you with sustenance you'll need.
*Shelf life is up to 5 years when the vacuum-bagged exterior remains unopened. Once opened, each individually wrapped bar has a shelf life of up to 1 year. Best when stored in a cool and dry place at temperatures between 55°F and 70°F.