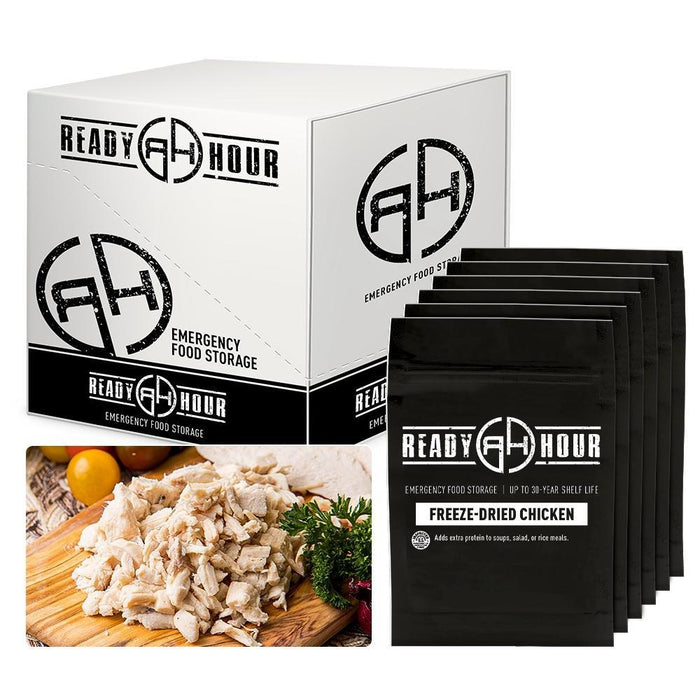 Ready Hour Freeze-Dried White Meat Chicken Case Pack (12 servings, 6 pk.)
WHY BUY FREEZE-DRIED FOODS?
During the freeze-dried process, food are immediately frozen to maintain its taste. Condensed in heavy-duty packaging, it stays for years to come. Food storage isn't just for natural disasters and man-made catastrophes. There are times when a financial crisis may hit, causing you to have to cut back on the way you usually shop for groceries. Ready Hour packages last up to 30 years unopened. 
Each serving provides you with 27 grams of protein. Our chicken breast complements pasta, soups, stews, and rice with rich flavor.
Ready Hour case packs allow you to buy in large quantities, without wasting what you don't use right away. These cases come with six pouches of freeze-dried chicken. This helps you maintain the shelf-life of your chicken until you're ready to cook it.

Freeze-Dried Chicken Benefits:
Bulk cases with multiple pouches 
Budget Friendly
Ultimate in convenience and choice
Easy to prepare
Up to 30-year shelf-life unopened
Up to 1-year shelf-life after opening
Includes 6 pouches
2 Servings per pouch
Packages are r

esealable zipper-top, 

heavy-duty 4-layer pouches

 with oxygen absorbers inside to extend shelf life

Requires no refrigeration
Weighs 1.34 pounds
The Freeze-Dried Chicken Case Pack boxes are 9 x 7 1/2 x 7 inches. NET WT. 2.12 oz (60g) per pouch, for total combined weight of 12.72 oz (360g).