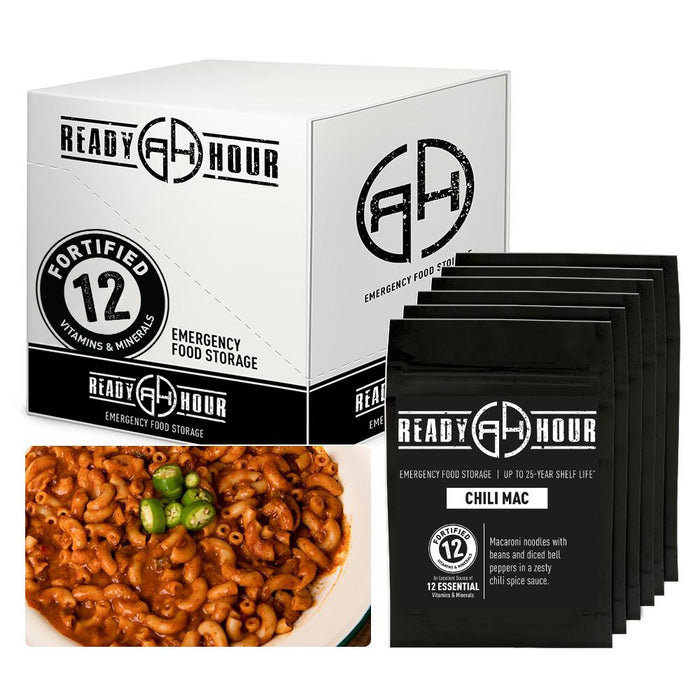 Chili Mac Case Pack (48 servings, 6 pk.)
PLENTY OF FOOD TO FEED A CROWD, AND THEN SOME
Our Ready Hour Chili Mac Case Pack is meant to feed a group of people immediately or one person who enjoys having food left for the future. Ready Hour case packs allow you to have staples on hand and have the capacity to use what you need, all without wasting what you don't use right away.
Chili Mac is the choice of sports fans who enjoy throwing football parties. We made our products to be universal. They are not just for long-term storage for emergency situations, we made them easy and delicious to enjoy as you like. They're an excellent source of 12 essential vitamins and minerals, too. They are highly cost-efficient for those on a budget, too.
Why Ready Hour? 
Convenient - The pouches make it easy to grab what you need to prepare in a hurry. 
Easy to Prepare - Add hot water, wait 10 minutes and you have hot delicious chili for your crew.*
Longevity - Lasts 25 years unopened, and one year once the package is open. 
Doesn't Require Refrigeration - Ready Hour Chili Mac is essential to have on hand during a power outage or other emergency. Be sure to keep a case in your kitchen cabinet for daily use. And don't forget to save a case for your survival kit too.   
Weighs 5.9 pounds
Allergen Alert: This product contains soy and wheat. May also contain gluten. 
Click here for nutritional information.
*Total water needed to cook the entire case pack is 3 gallons.