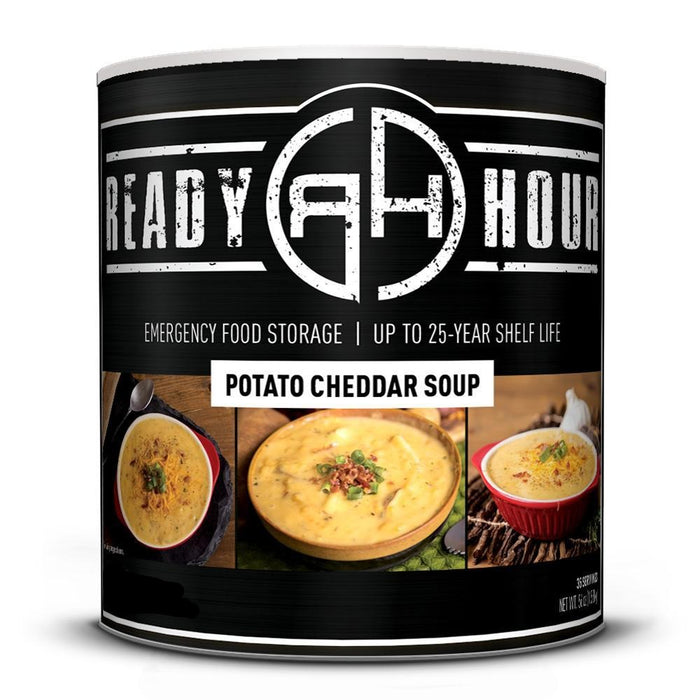 Ready Hour Potato Cheddar Soup (31 servings)
ARE YOU READY FOR THIS FILLING AND TASTY SOUP?
Are you a soup lover? Do you enjoy the heartiness of a creamy soup or stew any month of the year? If so, we have something that will blow your mind! 
Ready Hour Potato Cheddar Soup is made of hearty potatoes and lots of cheese to create a filling and delicious tasting soup that the entire crew is going to love. We know the importance of providing an outstanding product to our customer so they can face any crisis. 
Whether it's a hot soup or a cold one on a summer day, it's a great appetizer and even makes for a great meal. Ready Hours provides you with the #10 can that is the preferred method of storing food for many years to come. It's made of metal steel, yet so light, you can carry it anywhere. Pack one in your go bag, in case of that sudden emergency when you have to take off quickly.  
Ready Hour Potato Cheddar Soup lasts up to 25 years unopened, and one year once it is open. Store it in a cool, dry location where temperatures stay between 55 and 75 degrees for optimal longevity. Ready Hour Products require no refrigeration. This is vital when the grid is down. Our #10 cans are made of steel, waterproof and rodent proof, and stores easily on a shelf or in a closet.
To view nutritional panel, ingredients and directions click here
25-year shelf life unopened.

6,510 total calories.

Product weight is 4.6 pounds.
Total water needed to cook entire #10 can is 2.7 gallons.