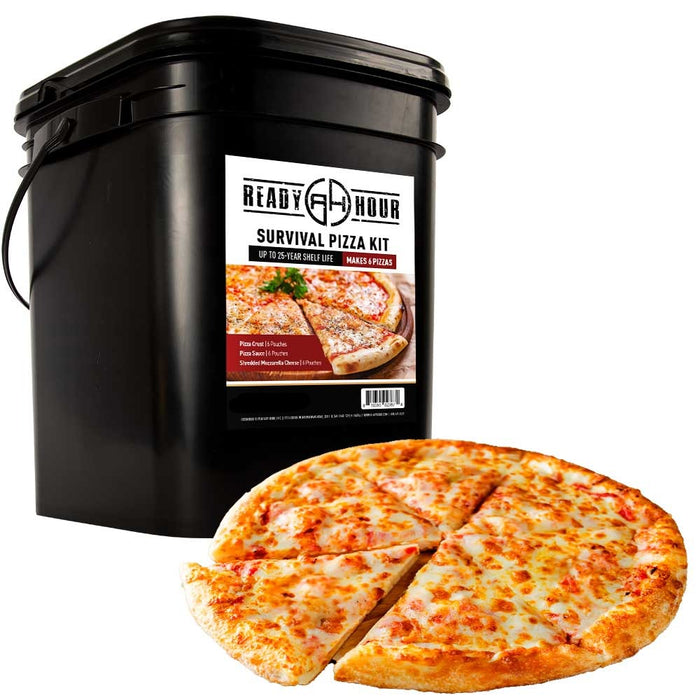 Ready Hour Survival Pizza Kit (6 pizza pack)
A Favorite Among Kids, Teens, and Adults Alike
Having access to familiar foods in an emergency isn't simply a preference—it's crucial. In high-stakes circumstances, taking time to eat your favorite comfort foods can boost morale and eliminate stress.
There are few foods as big of a crowd-pleaser as pizza. With the Ready Hour Survival Pizza Kit, you can enjoy a cheesy slice of pizza no matter where you are.
Product Details
6-pack contains 7,680 total calories.
Includes 6 pouches each (18 total pouches) of Ready Hour Pizza Crust, Ready Hour Pizza Sauce, and Ready Hour Freeze-Dried Shredded Mozzarella Cheese.
Makes 6 pizzas (10-inch).
Only requires water to prepare.
Packaged in heavy-duty pouches with four-layer protection.
Pouches sealed in durable bucket.
Protected from water, pests, sunlight, chemicals, and more.
Lasts up to 25 years.*
No refrigeration needed.
Bucket dimensions: 12 x 12 x 15.25 inches
Kit weight: 7 pounds
Water needed: 0.5 gallons
Click below to view nutritional panel, ingredients, and directions for each product.

Ready Hour Freeze-Dried Shredded Mozzarella Cheese
Restaurant-Quality Pizza Regardless of Conditions
The flavorful Ready Hour Pizza Sauce is seasoned with basil, garlic, oregano, and salt, making it a delicious spread atop the crispy and golden-brown Ready Hour Pizza Crust. When topped with the Ready Hour Freeze-Dried Shredded Mozzarella Cheese, your survival pizza could be confused with any of the big-name brands.
Bake your pizza in a conventional oven if you have power or a generator. When circumstances are more dire, use a Dutch oven or gas or charcoal grill.
*Shelf life of up to 25 years when unopened and stored in a cool, dry location between the temperatures of 55°F and 70°F. Actual shelf life may vary depending on storage conditions. Once opened, shelf life is up to 1 year.