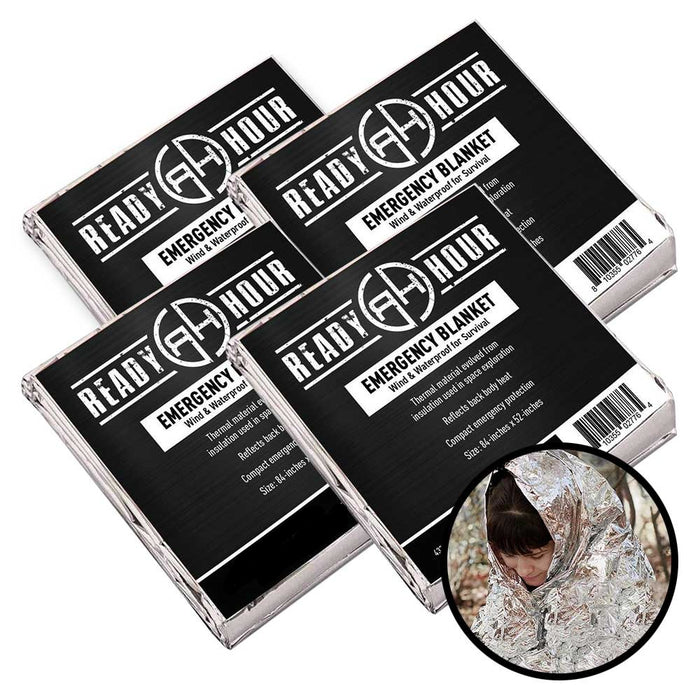 Ready Hour Emergency Blanket
These wind and waterproof blankets are made of lightweight and durable aluminized non-stretch polyester, a unique fabric that reflects heat back to the body, and stays snug even in freezing temperatures. It stows away easily.
Each Emergency Blanket will provide you and your family with protection from the wind, cold, rain, and anything else mother nature can throw at you. Get one for everyone, and store them away for when you need them. Make sure to keep extra in your car, as they are lightweight and compact and will come in handy at one point or another. 

Uses of these blankets are countless, as you could use it for ground cover, to catch and distribute rainwater, for temporary shelter, and much more. 
Features:
Made of lightweight aluminized non-stretch polyester
Works by reflecting body heat back to your body
Compact and easy to stow
Measures 84" x 52" when unfolded
Wind and waterproof
Individually packaged for easy storage and portability
Stays flexible in freezing temperatures
Durable
Proper Use and Care:
Your Ready Hour Emergency Blankets requires very little maintenance. We recommend the following care:
Avoid storing with sharp utensils
Allow Emergency Blanket to thoroughly air-dry following use to prevent trapped moisture when storing
Do not bring in contact with open flame