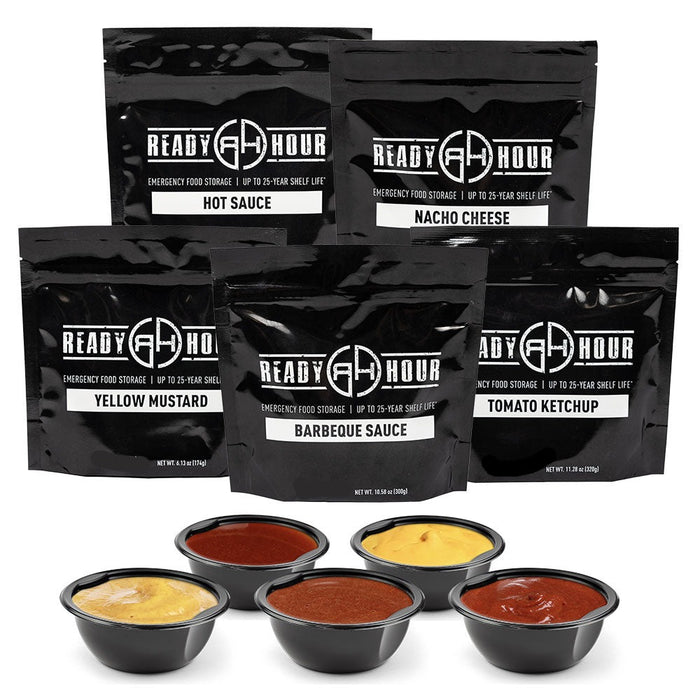 Ready Hour Condiments Case Pack
Add flavor to your food with the Ready Hour Condiments Case Pack.
This fully stocked sauce selection will make your meals delicious any day, whether it's during a disaster or an upcoming outdoor trip.
What's Inside: Five Favorite Condiments
This case pack includes six pouches of powder, packed with flavors you'll love:
Hot Sauce
Nacho Cheese (2 pouches)
Yellow Mustard
Barbeque Sauce
Tomato Ketchup
And as an added perk, every sauce mix is gluten-free.
Shelf Stable for 25 Years—No Refrigerator Needed!
Because this is a case pack, it's made for stockpiling. Add a few Ready Hour Condiment Case Packs to your supply for decadent dishes no matter the conditions.
Keep them in a cool, dry place between 55°F and 70°F and you'll be prepared for up to 25 years—no refrigerator needed.
Simply open a resealable pouch, remove the oxygen absorber, add water, then stir until smooth for a tasty topping or dipping sauce in seconds.
Specifications
25-year shelf life
5,645 total calories
143 servings
Total water needed for all five packs is 4.51 gallons