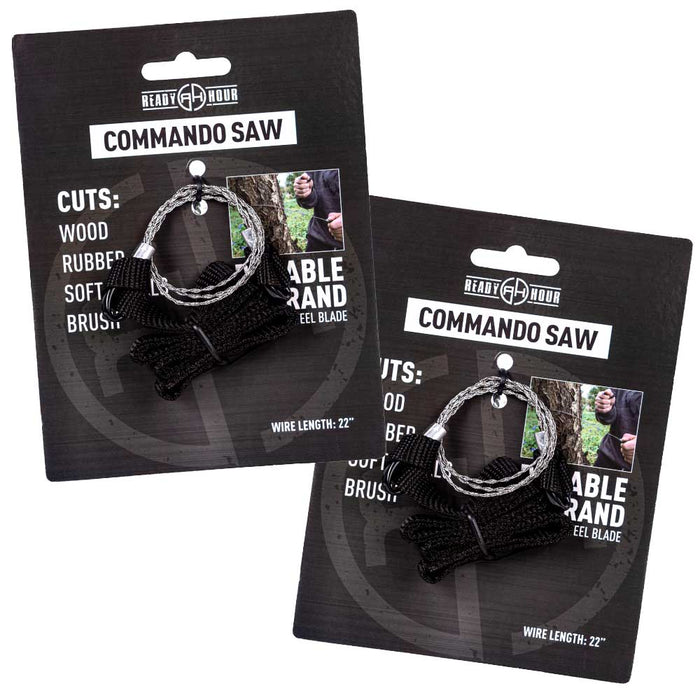 Ready Hour 22-inch Commando Saw (2-pack)
Cut through the challenges of survival with the Ready Hour Commando Saw.
Whether you need to create a clearing for the night's camp or cut materials to aid your survival, the Ready Hour Commando Saw is equipped to tackle the encounter.
CUTS WOOD – Perfectly designed to cut through

wood* like foliage, branches for starting fire

, and more. 
CUTS A VARIETY OF MATERIALS

 

–

 

Gets through rubber, plastic, soft metals, and bone.
STEEL DESIGN – Features a

stainless-steel blade

and sturdy

eight-strand design.

EASY TO USE – Includes

nylon wrist straps

for effortless cuts with minimal pressure.
LOTS OF LENGTH – Comes with

22 inches of cutting wire

that won't wear down.
CONVERTIBILITY –

Hunt and trap small game

with a saw that doubles as a snare.
SUPREME SAFETY – Stay safe from accidental cuts. This saw

only cuts when friction is applied.
When wrapped up and ready to pack, this compact cutting tool can easily slip into your pocket! It's the optimal addition to your camping gear, bug-out bag, or the emergency kit in the trunk of your car.
Get the kick of a power tool without the weight to slow you down. Get the Ready Hour Commando Saw.
*Not designed to cut down medium-to-large-sized trees.