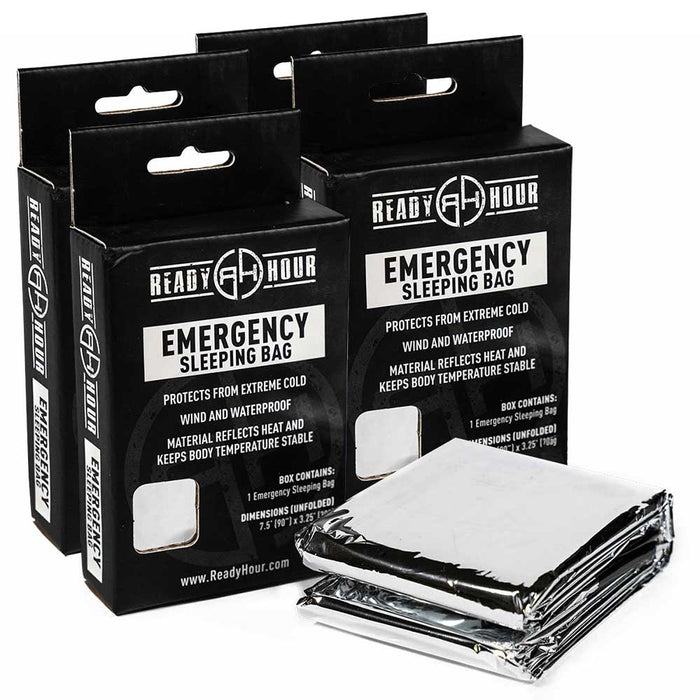 Ready Hour Emergency Sleeping Bag
Use your own body heat to stay comfortably warm – even in harsh winter weather!
The Ready Hour Emergency Sleeping Bag could save your life one day. It reflects back your own body heat using space-age materials.
It can also double as an emergency waterproof and windproof shelter.
Need a reliable emergency sleeping bag?
Look no further. The Ready Hour Emergency Sleeping Bag is the only one to consider, with all the features you need!
Sleeps two

 - Twin-bed size (90" x 39")


Warms without need for electricity

- Heat-reflective (special metallic and polyester fabric)

Signals rescuers

- Highly visible (shiny)

Keeps you warm and dry

- Waterproof and wind-resistant (perfect for sheltering or ground cover)
It's highly affordable, too!
You can even slip one inside your regular sleeping bag for added warmth.
When the bitter cold is just too much, this is the emergency bag to have on hand.
Be sure to get enough for everyone in your family or crew.
Warning: Avoid the danger of suffocation. Do not enter this emergency bag head first. Keep clear of your face. Child should only use with adult supervision.